Delta Machine and Design has grown from a one employee, 1000 sq. ft. shop in 1986 to a 21,000 sq. ft. operation employing twenty five. It is an exciting time at Delta, as we have been in business for over 30 years, and continue to grow.
Our dedicated staff has our customers' best interests at heart and this has been the key to our success. Constantly looking for process improvements and innovative new ideas have kept Delta competitive, and result in superior quality finished products and services.
Our three acre site in Ingersoll, not only houses our facility, but we are also partners with Bell-Camp Manufacturing Inc. which is a large local fabricating shop. We work together to supply complete turnkey manufacturing projects.
Delta is also committed to the betterment of our society, and to that end, we support many charities, and are involved in board leadership positions at a number of these charities.
We would be pleased to assist you, quote on any jobs, or answer your questions about Delta Machine and Design. Please feel free to contact us.
Brad & Kevin Stubbe
Delta Machine and Design Ltd.
The Quality Management Team at Delta has many years of manufacturing experience in areas of machining, tool and die making, design and drafting, and production.
In our Ingersoll, Ontario machine shop, Delta Machine and Design employs licensed machinists and tool and die makers, machining apprentices, and operators. This skilled group of people are very capable and resourceful and can respond quickly to our customers' needs.  Our dedicated staff are the key to our success.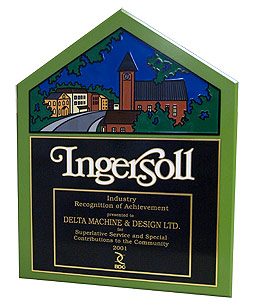 Delta Machine and Design Ltd. holds a Certificate of Registration for a Quality Management System which complies with the requirements of ISO 9001:2015 with the following scope:
Design, Develop and Manufacture of custom machine and production machine parts and assemblies.
Other achievements include:
Winner of the Industry Recognition of Achievement Award from the Ingersoll Chamber of Commerce.